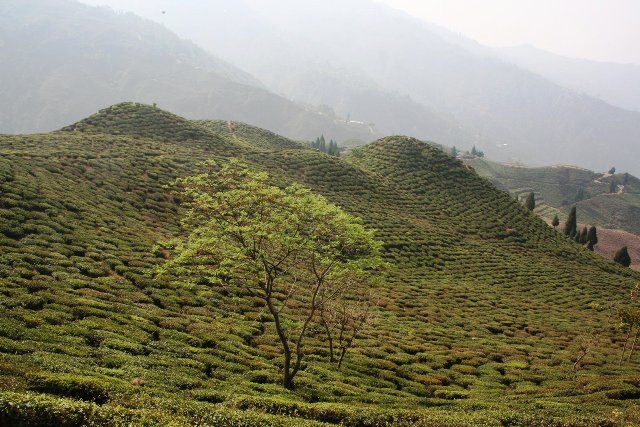 DARJEELING TEA
Darjeeling tea is a tea from tea bushes growing in the Tea Estates around the Darjeeling mountain area. Darjeeling is located in the northern parts of West Bengal in India with a population of about 100 000 inhabitants. Darjeeling borders to Nepal, Sikkim, Bhutan and Tibet. Darjeeling is located at an altitude of 750 to just over 2000 m above sea level and is a fertile and rainy area, well suited for the cultivation of tea.
To be called Darjeeling tea, the tea must have been grown within the prescribed area. There are 87 Tea Estates in Darjeeling on an area of 19 000 hectares. 52,000 people are employed to work with tea in Darjeeling.
Approximately 40 million tons of tea is sold as Darjeeling tea, while the production is only 10 million tones. You can find many cheap Darjeeling teas on the market, and not necessarily all are genuine. Darjeeling tea is usually relatively expensive.
Darjeeling accounts for only 1% of the total tea production in India.
DARJEELING HISTORY
1815 Raja of Nepal handed over power over the Darjeeling area to the East India Company, but gets the power back in 1817 in the ongoing strife, but with some administrative rights. 1835 the East India Company once again takes over full control over the area.
Darjeeling region was selected by the British for constructing a mountain station back in 1815. Darjeeling has a very beautiful location with magnificent scenery, views and is a popular destination.
Tea is a precious commodity and the British have been looking for a suitable place to grow tea. This was shortly after the Opium War, and the Britt's are looking for a way to gain control of tea.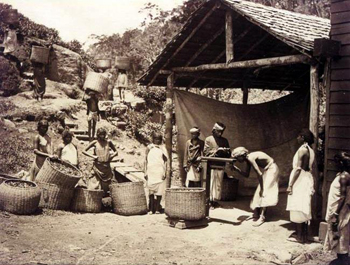 Experiments are in progress and the first cultivation of Darjeeling tea is made by Dr. Campbell on Dr. Campbell's own farm Beechwood in 1841 with seeds from China.
The first commercial Tea Estates were founded by the British in 1852, these were Tukvar, Steinthal and Aloobari.
In Darjeeling is now an ongoing political conflict with Gorkha, the ethnic peoples that lived in Nepal and are seeking independence. This disturbs every now and then the ongoing tea trade in Darjeeling, as an example in the year of 2011 when the political wing of GJM stopped tea from being exported.
LITTLE MORE ABOUT DARJEELING TEA
In Darjeeling mainly the Chinese variety Camellia Sinensis Var. of the plant is used, that comes from Fujian province in China. This tea bush is better suited for the highest elevations in Darjeeling, but gives less tea leaves.
Tea bushes that are used on the plantations either are sown from seeds or are from clones. Some tea plantations are still harvesting the original plants from the time the plantations were founded 150 years ago.
There are approximately 12,000 of tops and two leaves for every 1kg of tea Sinensis var. Sinensis, Camellia Sinensis while Assamica variety gives double.
Although Darjeeling tea is classified as a black tea a large part of the black tea production is not dark in color. Darjeeling also produces green teas, white tea and oolong teas, but this is somewhat more unusual.
FIRST FLUSH

The first harvest is called First Flush and takes place from mid-March depending on the weather, right after the spring rains. The plants rested in the winter and grow slowly and the new shoots produced gives the most sought after tea. First Flush teas leaves are green in appearance and taste is very light with some sweetness.
SECOND FLUSH

Second Flush is following is held in June before the rainy season. Second Flush teas are darker in appearance and the brew is darker with taste often associated with Muscatel.
MONSOON FLUSH
Teas harvested during the rainy season are of lower quality. The tea leaves have a high degree of humidity and the tea is often used for various tea blends.
AUTUMNAL FLUSH
The last harvest is called the Autumnal Flush and takes place after the rainy season in the fall, October to November. During this period the leaves are large and the tea has a full-bodied round taste.
GRADING OF DARJEELING TEA
Darjeeling tea has rating based on the leaf appearance. We generally deal with only teas of the highest grading and of best quality. Some examples of grading's.
Dust, used in tea bags, the lowest grade
D: Dust
Fannings, smaller leaves than broken
GFOF: Golden Flowery Orange Fannings
GOF: Golden Flowery Orange Pekoe - young tips FOP
Broken, Broken leaves
FTGBOP: Fine Tippy Golden Broken Orange Pekoe
TGBOP: Tippy Golden Broken Orange Pekoe
FBOP: Flowery Broken Orange Pekoe
BOP: Broken Orange Pekoe
Whole Tea Leaf
TGFOP: Tippy Golden Flowery Orange Pekoe
FTGFOP: Finest Tippy Golden Flowery Orange Pekoe, Grade1 - very fine FOP
SFTGFOP: Super Fine Tippy Golden Flowery Orange Pekoe, Grade1 - best FOP
TEA ESTATES
We list some examples of Tea Estates whose teas you often see in our assortment, and some brief information about them.
Castleton Tea Estate
Location: Located in the south of Kurseong Subdistrict
Area: 170 hectare
Height: 915 – 1830 meter
Founded in 1885 by Dr. Charles Graham. The name Castleton is from a building that looks like a castle. Castleton is mainly harvested from pure China bushes.
Dooteriah
Location: East Darjeeling
Area: 440 hectare
Height: 1025 – 2150 meter
Family-owned tea estate.
Jungpana
Location: Located in south Kurseong
Height: 900 – 1400 meter
1899 the Tea Estate was founded by Henry Montgomery Lennox who planted the first seeds. Since 1956, the Tea Estate is owned by locals. China bushes is used for the plantations.
Sungma
Location: western parts of the Darjeeling district
Area: 280 hectare
Height: 1100 – 1700 meter
Grows largely China bushes and to a smaller part clones.
Thurbo
Location: Mirik
Area: 170 hectare
Height: 700 – 1900 meter
Thurbo often uses clones.